LOVE INC of Lufkin GIFTS-IN-KIND
PARTICIPATING CHURCH MINISTRY
AGREEMENT
LOVE INC of Lufkin Agrees as Follows:
1. LOVE INC will continue as an outreach ministry with G.I.K.
2. LOVE INC will receive, sort, display and distribute ministry resources for
Ministry Participants.
3. LOVE INC will advise all Ministry participants when they may make an
Appointment to pick up resources.
4. LOVE INC will determine allocation limits, as needed based on available
resources, church size and needs.
5. LOVE INC will maintain records of distribution and use by participants so
That our supplier, World Vision, may receive reports to justify their continued
Resource supply.
_________________________________________
LOVE INC Executive Director
_________________________________________
LOVE INC GIK Coordinator
PARTICIPATING CHURCH AGREEMENT


1. Our Church will make certain that G. I. K. is never sold, bartered, or exchanged
per U. S. tax law.
2. We will financially support the G. I. K. ministry component and we will work
towards becomming a LOVE INC of Lufkin Partner Church. (A partner
church is one who financially supports the ministry of LOVE INC of Lufkin.
Consistently.)
3. We will encourage and enlist volunteers to help LOVE INC of Lufkin
accomplish the above process.
4. We will regularly offer informal reports (Love Stories) to LOVE INC of
Lufkin describing specific use of G. I. K. resources.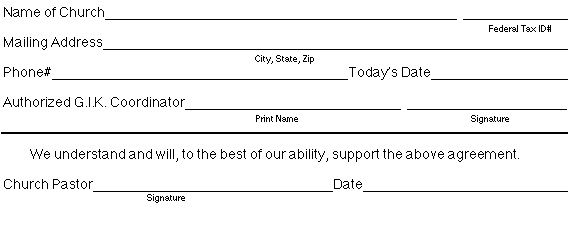 If you would like to become a Participating Church, please print, and return to LOVE INC, P. O. Box 153311, Lufkin, Tx.75915